Long Covid – What we Know so Far?
More than two years have past since we first became aware of Corona (SARS-CoV-2). There are now vaccines and at the same time the virus has changed again and again. What we know so far: the vaccines continue to provide reliable protection against serious diseases and most infections are now rather mild. Regardless of the severity of disease, those who have recovered are not necessarily well [1, 2, 3]. Many of those affected are still struggling with the long term consequences.
The phenomena, now routinely referred to as Long Covid, is still a mystery to researchers, physicians and those affected alike. You can read here about the symptoms of Long Covid in the airways. Furthermore you can learn what proven treatments can be recommended also for the treatment of Long Covid.

What is Meant by Long Covid / Post Covid?
Numerous researchers haven been grappling with this question in recent months. In general, the term Long Covid is used when patients continue to exhibit symptoms weeks and months after recovering from infection with SARS-CoV-2. Those affected are sometimes also referred to as "long-haulers", that is to say they are carrying ("hauling") the symptoms around for a long time.
The period of time for which this term applies has yet to be defined precisely. Sometimes the term is used to refer to those still experiencing symptoms 3 weeks after the "post acute" phase, considerably shorter than the 12 weeks of "chronic-Covid-19-Symdrome" (CCS). Physicians often use the term "post-covid-syndrome" and commonly refer to "post-covid treatments". The term Long Covid, however, has been established as a term for those who continue to present symptoms after resolution of their infection. The use of this term by lay persons in particular on the internet means that is becoming increasingly established [4].

How Common is Long Covid?
The findings from many observational studies are now available. These confirm: not all persons recovered from Covid-19 are truly well. The results of a recently published meta analysis of 15 studies (only included studies with more than 100 participants) showed that around 80% of those infected with SARS-CoV-2 exhibited one or more long-term symptoms. [5]
A further study in which a total of 2113 persons were questioned showed a similar result. Some of the participants came from two Facebook groups for Coronavirus patients with persistent symptoms in the Netherlands and Belgium. The remainder from a panel of persons who had registered on the website of the Lung Foundation Netherlands. They asked about the presence of 29 different symptoms at the time they were recorded (retrospectively) as well as at the follow-up examination (average ±SD 79 ±17 days after symptoms appeared).
Fatigue, headaches and shortness of breath belonged to the most frequent long-term consequences with a tightness in the chest and coughing also being reported in frequent cases. Noteworthy is furthermore that around 18% of patients were still reporting of having mucus in their lungs even after 79 days (see chart [6]).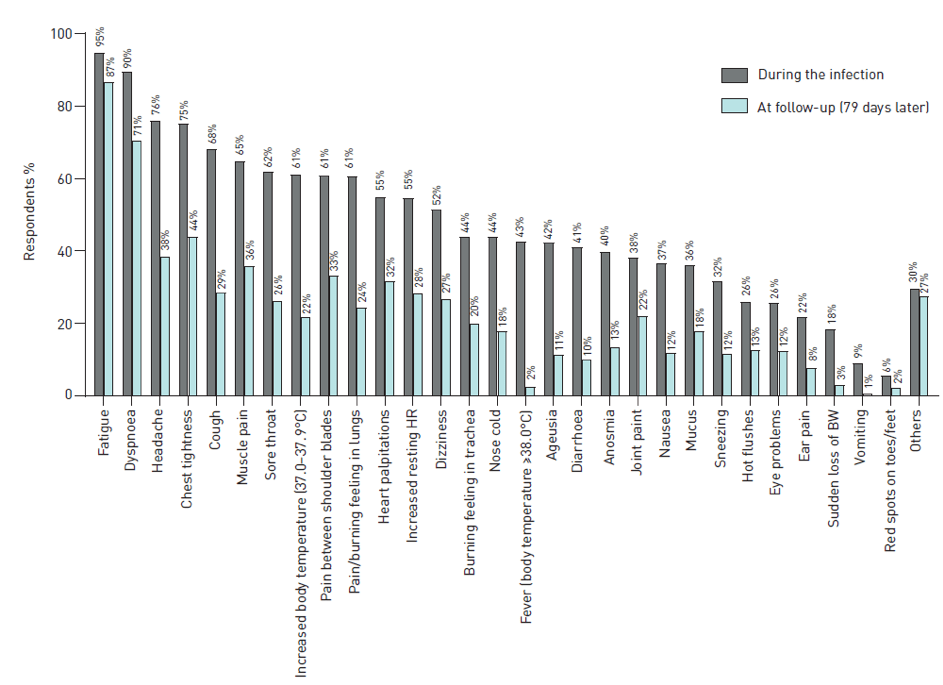 The Long-Term Care of Airways is Highly Relevant for Long Covid
The results from the studies highlight that a considerable portion of patients with an acute SARS-CoV-2 infection suffer with longer term problems of their airways [5, 6]. To date over 110 Million Covid-19 cases have been confirmed (February 27th 2021), meaning that a considerable number of persons are likely to have long-term problems with their lungs. This number will of course vary depending on the incidence of COVID-19 in different countries.
Prof Rohde, head of the post-Covid ward, pulmonology and allergology at the University Hospital in Frankfurt, also reported seeing Long Covid patients with a hyper responsive bronchial system and shortness of breath: "Three different patterns can be recognised. One is the so-called hypersensitivity of the airways. That means that coughing can result relatively quickly from certain stimuli such as for example cold air or exertion. The second is the development of a real shortness of breath meaning that any exertion leaves them not only tired and exhausted but are out of breath much faster. This is often on account of structure changes to the tissue in their lungs" [7]. Some of these patients are already receiving treatment. Another group will likely soon contact their GPs or ask themselves how they can best deal with such long-terms problems of their airways.

Inhalation of Saline can Help Alleviate the Symptoms of Long Covid in the Airways
The good news is that coughing and bronchial hyperresponsiveness can be treated well by nebulising saline solution. In the case of cough, a differentiation should be made between productive (with mucus) and dry coughing (without mucus). Whilst a dry cough is best treated with isotonic saline (saline content = 0,9%), hypertonic saline (saline content = 3-7%) is recommend to help mobile mucus. [8]